Mac Repair Nottingham have been offering a personal, professional, cost effective, repair service to the local Macintosh & iPhone / iPod market since 2009.We are Nottingham's number one independent Mac repair support centre open 7 days a week, and with emergency engineers on call up to 9pm daily.

Mac Repair Nottingham
We are recognised as offering the most competitive prices for support and repairs throughout Nottingham and surrounding counties when it comes to Macbook, iMac, Mac Pro, Powermac, iBook, Macbook Pro, iPhone, iPod, and iPad repair.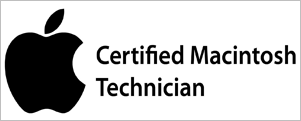 Our business was grown out of a passion for everything Mac, and the technology that today makes them such a global phenomenon!
Our Mac Doctors (engineers) are highly trained, friendly, extremely knowledgeable, passionate about there Mac's and yours.
We are also happy to be able to offer iPod Repairs , iPhone repairs, iPad repair in Nottingham.
All of our engineers are fully trained to high standard and can come to you at your home or business, or if you prefer you can drop it off at our local repair work shop. We are also able to perform iPhone, iPad, and Mac soldering work, including to the logic board. If your looking for something a little above and beyond, The Apple Geeks offer a uniqe  colorization process for your iPad, iPhone, or Mac. Mac Repair Ltd is happy to recommed them.
Our  aim is to get you back up and running again with your Mac or iPhone the same day!
Here are just some of the services We offer for your Apple Computer.
Apple Mac Repairs (on site, or at your home or business)
Apple Home or Business Support

Apple & Adobe Training

Apple Data Recovery

Apple upgrades

Apple Parts

Apple Mac Screen Replacement

Apple Mac Sales
And yes! FREE APPLE MAC ADVICE.
Apple Mac & iPhone, iPod Repair Nottingham
We under stand how important your Mac is to you, and what a important part in plays in your day to day life.
That's why we make it our priority to get you back up and running again as fast as we can, with all the love your Mac deserves.
Mac is not just a computer………. for many it's a way of life!
We  provides support and repairs throughout our Mac Repairs Partners.
We also a member of iFixExpress
And we are also happy to offer a 10% Discount to our student customers.
So if your suffering from an immediate support issue, or require a cost effective fast turn around repair.
We are your one stop solution for Nottingham Mac Repair.